Delicious AND Healthy Foods/Snacks To Enjoy
Post-Sauna Session
After a relaxing infrared sauna session, a delicious snack doesn't sound like a bad idea. However, you don't want to go straight to the junk food cupboard. Instead, reach for a healthy post-sauna snack to enjoy, and we've got plenty of ideas for you! Here are six delicious healthy foods and snacks you need to try.
---
Love refreshing veggie dips for a snack? Then you'll love this Greek feta dip. It's filling, meaning it will keep your hunger at bay until your next meal. It also has a ton of protein due to the main ingredients being feta and Greek yogurt [1]. How do you make it?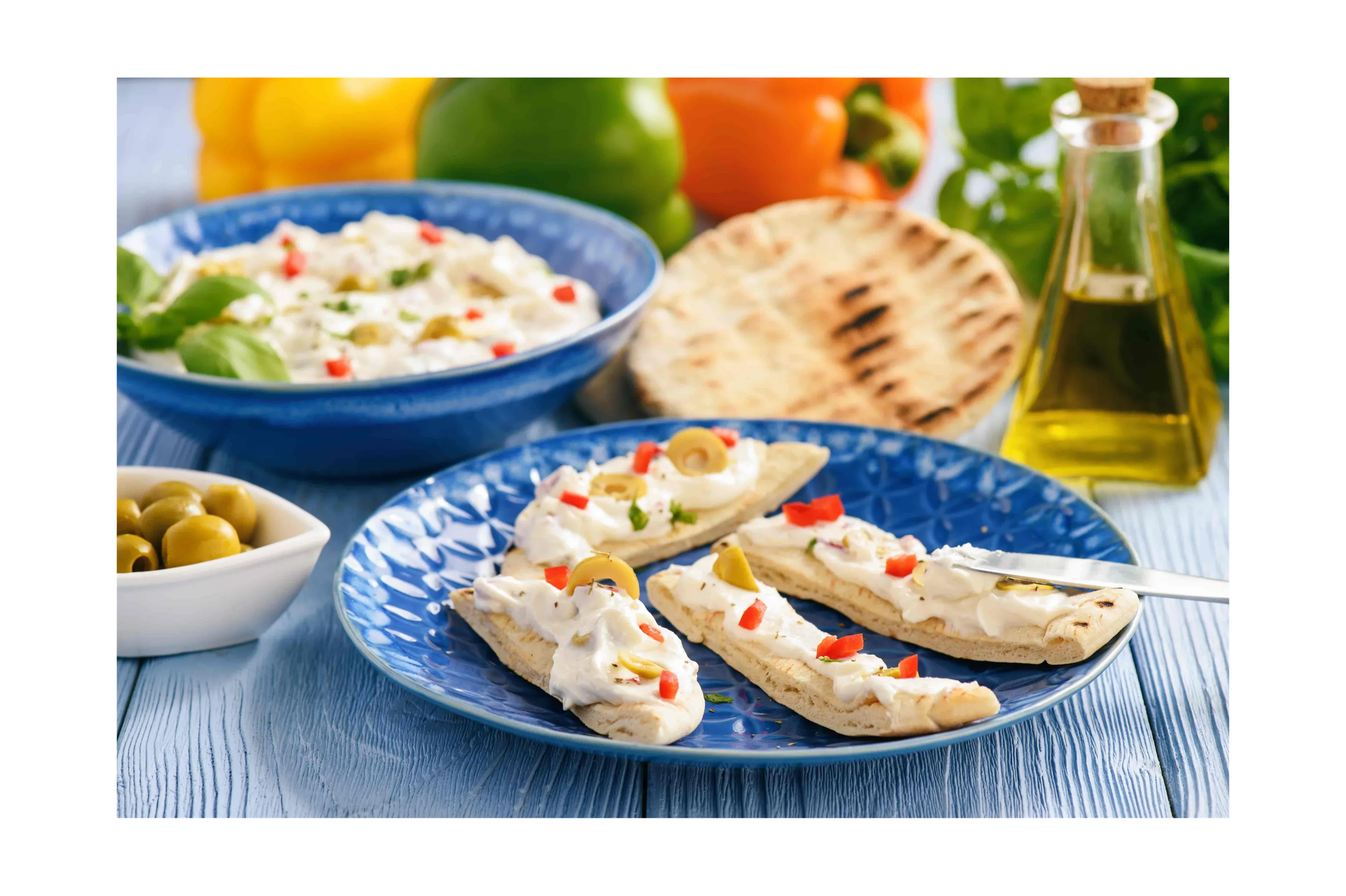 Ingredients
12 ounces of feta

1 cup of Greek yogurt

1 ounce block of cream cheese

¼ cup of olive oil

The zest and juice of 1 lemon

Salt

A pinch of red pepper flakes

2 tablespoons of freshly chopped dill

½ cup of cucumbers

½ cup of cherry tomatoes, halved

Pita or vegetables for serving
Instructions
In a bowl, mix the feta cheese, Greek yogurt, cream cheese, lemon juice and lemon zest. Use a hand mixer to do so until the mixture is nice and fluffy. Season with the salt, red pepper and dill. Top the mixture off with cucumber, tomatoes and a drizzle of olive oil. Enjoy!
After a sweaty sauna session, a nice cool snack could be exactly what you need. These peach yogurt ice pops are delicious and nutritious. Each popsicle is also only 65 calories, offering a low-calorie and refreshing post-sauna snack [2]. Plus, they are easy to make!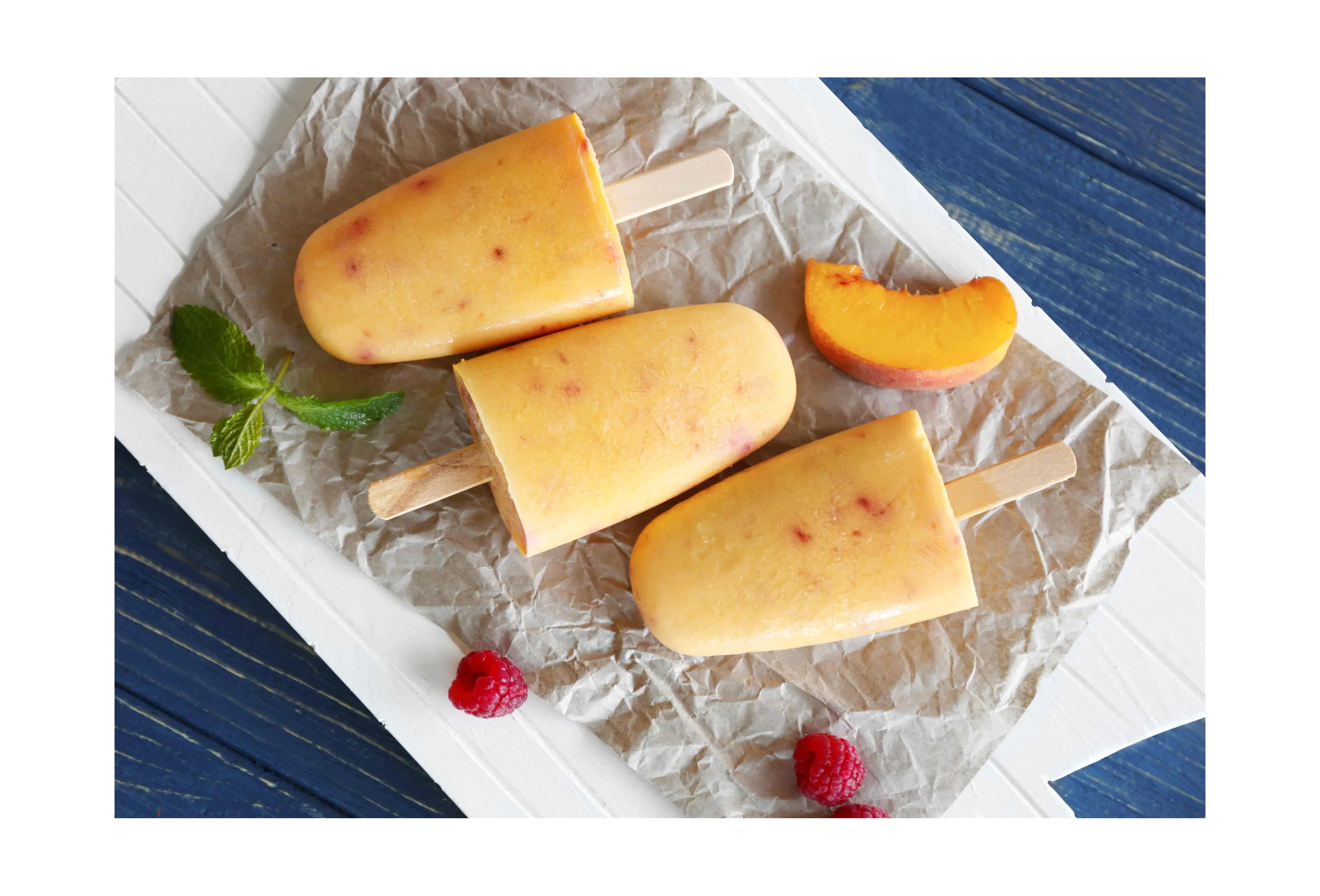 Ingredients
1 cup and 2 tablespoons of full-fat vanilla yogurt

⅛ teaspoon of pure almond extract

1 cup of raspberries

1 and ½ cup peeled peach pieces (2 ripe peaches)
Instructions
Mix the yogurt and almond extract in a bowl. Use a blender to puree the raspberries in a separate bowl. Puree the peaches in another bowl. Grab your popsicle molds and alternate between the three layers until each mold is filled to the top. Freeze for at least four hours. You can enjoy these yummy treats for up to a week after making them.
If you've ever tried making regular sushi, you know it's hard. These zucchini sushi pieces are a little easier to make, and they're much better for you [3]. You can also get creative with this recipe, meaning you don't have to follow it bang on. You may choose to add a different type of meat or maybe different veggies. You decide!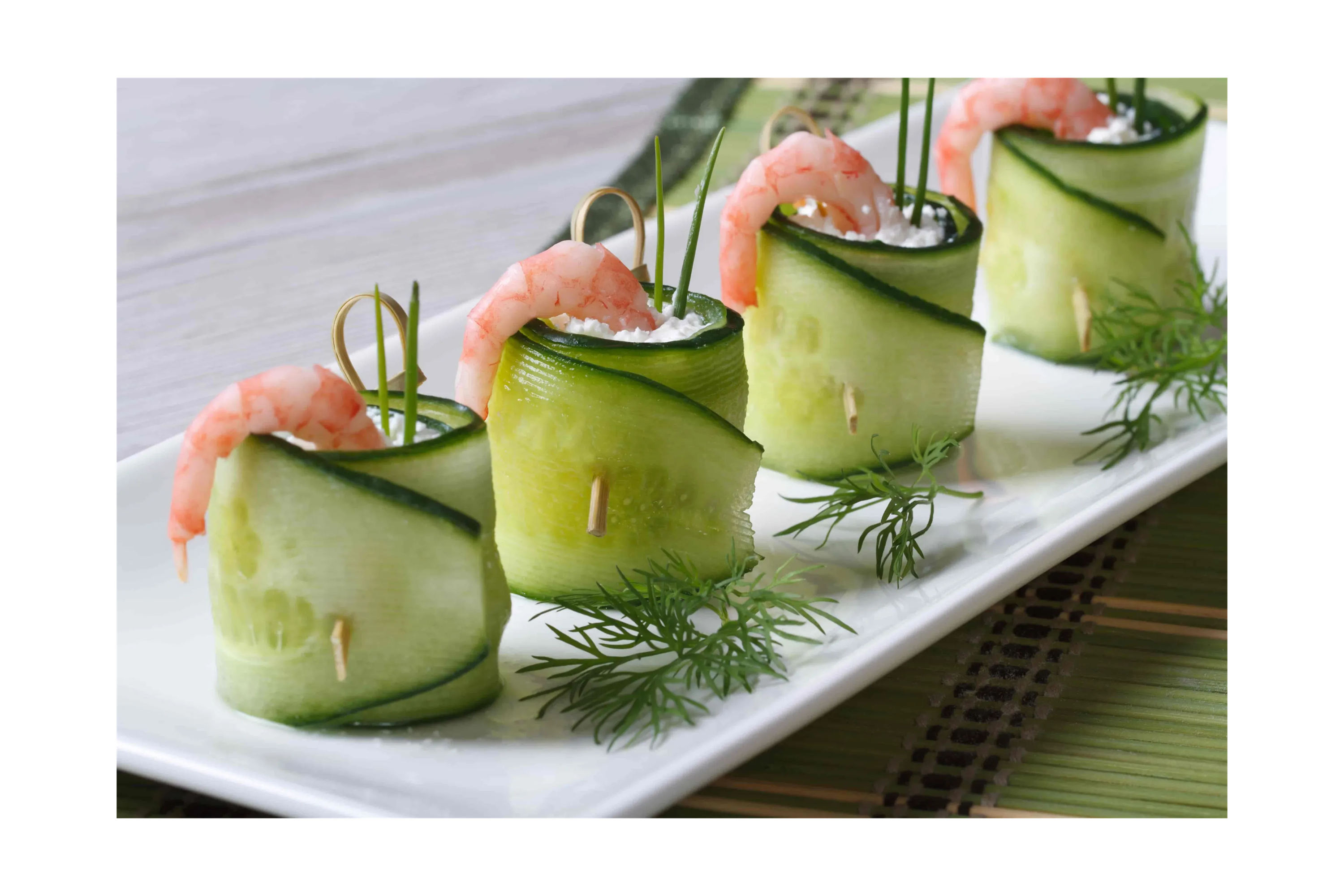 Ingredients
2 zucchini

4 ounces of cream cheese, softened

1 teaspoon of Sriracha

1 teaspoon of lime juice

1 cup of crab meat

½ of a carrot, cut into small pieces

½ of an avocado, cut into cubes

½ of a cucumber, cut into small pieces

1 teaspoon of toasted sesame seeds
Instructions
Grab a veggie peeler and slice the zucchini into long and thin slices. While you prepare the rest of the ingredients, lay these long and thin slices on a piece of paper towel. Mix the cream cheese, Sriracha and lime juice, then lay out the zucchini pieces on a cutting board. Apply cream cheese across the entire piece, then add a small amount of the carrot, cucumber, avocado and crab meat to the left side. Start on the left side and roll up the zucchini tightly. Sprinkle with the sesame seeds, and you've got yourself a yummy and nutritious snack to enjoy.
Sweet potatoes are an excellent source of fiber, as well as vitamin C and B vitamins. The key to making these chips crispy, like store-bought potato chips, is to slice them as thinly as possible [4].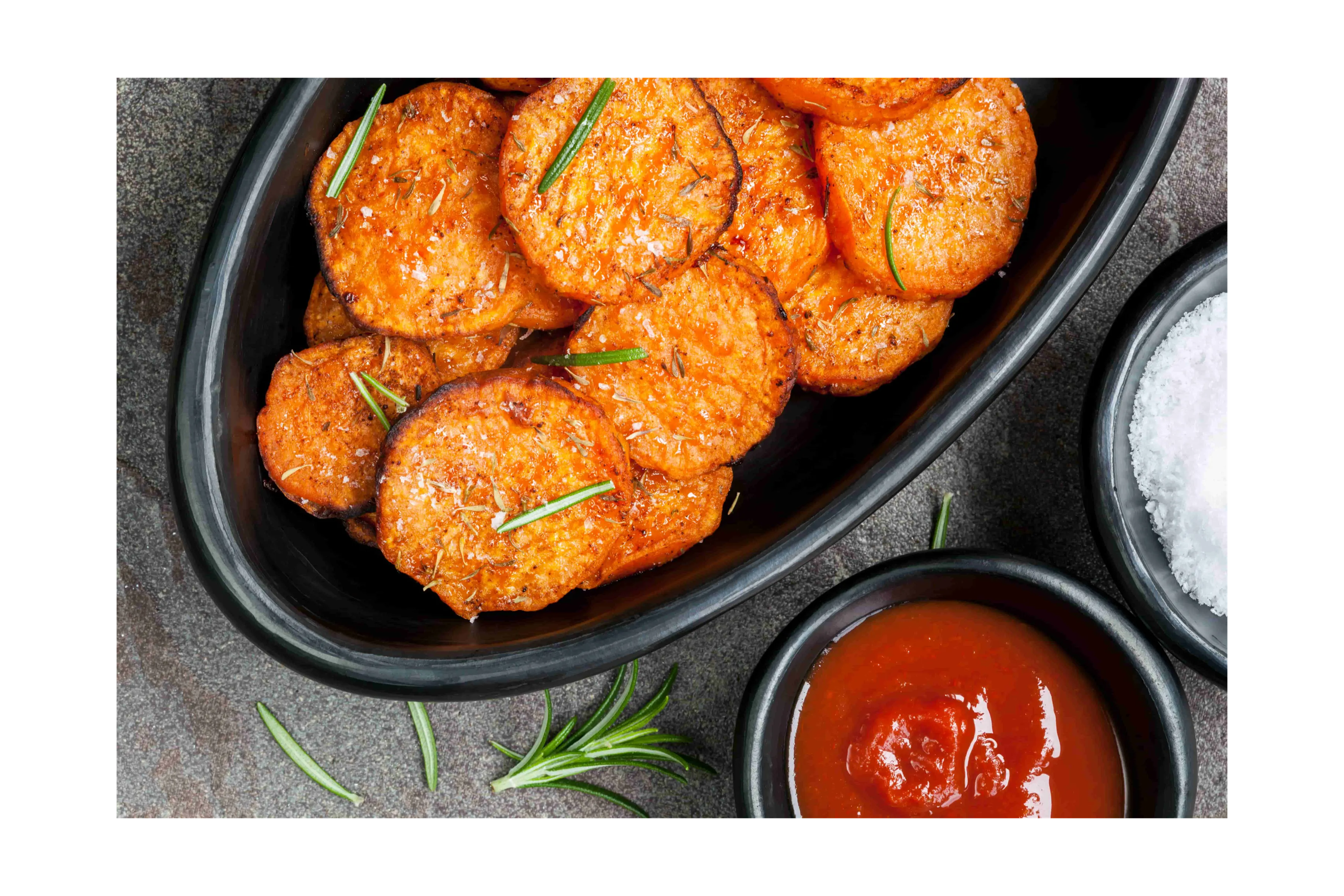 Ingredients
2 sweet potatoes, thinly sliced

1 tablespoon of vegetable oil

1 tablespoon of cornstarch

1 tablespoon of chili powder

2 teaspoons of paprika

1 teaspoon of garlic powder

1 teaspoon of mustard powder

2 teaspoons of salt

½ teaspoon of pepper

2 green onions, thinly sliced

⅔ cup of sour cream
Instructions
Set the oven to 350°F and let it preheat while you prepare. Toss the sweet potatoes together with the olive oil until they are evenly coated. In a bowl, whisk together the cornstarch and spices. Add the sweet potatoes, and again, toss until they are evenly coated. Place the potatoes in a single layer on a baking sheet and bake for 25-35 minutes or until the potatoes are at your desired crispiness. Let the potatoes cool before eating. We recommend enjoying them with sour cream (or even the feta dip described above!).
5. Jalapeno Popper Crisps

Do you like spicy, bacon and cheese? Good. These jalapeno popper crisps have all three, and they are way healthier than any store-bought jalapeno poppers ever could be [5]. They take about 30 minutes to make, but you can always prepare them before your sauna session so you have them ready to go.
Ingredients
4 bacon slices

1 cup of shredded parmesan cheese

½ cup of shredded cheddar cheese

1 jalapeno, sliced thinly

Ground pepper
Instructions
Preheat your oven to 375°F. On a stove-top skillet, cook the bacon slices. Blot the bacon slices dry with a paper towel after they are cooked and cooled, then chop the bacon into small bits. Place a tablespoon of parmesan cheese on a baking sheet and add a tablespoon of cheddar cheese on top. Pat down and add a piece of jalapeno and the bacon. Continue to do this until you run out of ingredients. Bake for about 12 minutes or until they are crisp. Cool, then eat them up!
This recipe is for all the peanut butter lovers out there. These peanut butter protein balls are full of - you guessed it - protein [6]. This would be an especially good snack after your sauna session if you did some yoga or other exercise during your session. It can help contribute to muscle growth and tone, and these are really easy to make.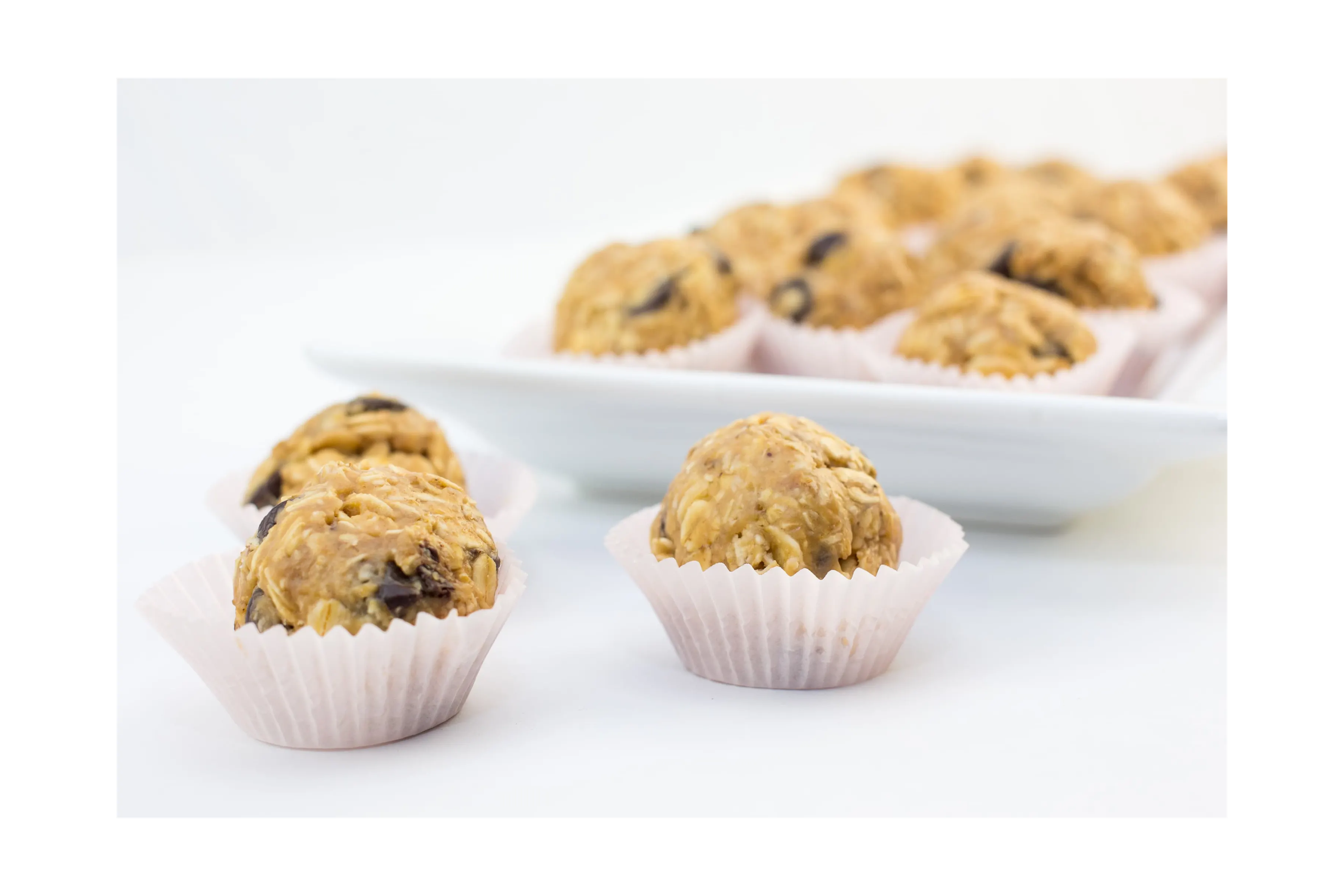 Ingredients
1 and ¼ cup of old fashioned oats

½ cup of shredded coconut

¼ cup of chocolate chips

2 tablespoons of chia seeds

2 tablespoons of flax seeds

½ teaspoon of ground cinnamon

¼ teaspoon of salt

¾ cup of natural peanut butter

¼ cup of honey

½ teaspoon of vanilla extract

2 tablespoons of milk
Instructions
Place parchment paper across a baking sheet. In a bowl, mix oats, chocolate chips, chia, coconut, flax seeds, cinnamon and salt, then mix in the peanut butter, honey and vanilla extract. If it seems crumbly, add the milk until the mixture isn't too dry. Roll the mixture into balls and chill them in the fridge for 30 minutes. This is a great recipe to make before your infrared sauna session since it will be ready when you're done in your sauna!
Treat your body right with nutritious snacks and meals, and re-energize after your infrared sauna session with any of the healthy snacks above. What's your new favorite? Maybe you'll even find a new healthy snack go-to from the list above!
---
Resources:
[1] Miyashiro L. (2018). "Greek Feta Dip." delish.com, 03 March 2020, https://www.delish.com/cooking/recipe-ideas/recipes/a50968/greek-feta-dip-recipe/.
[2] Woman's Day Kitchen. (2018). "Peach Melba Ice Pops." womansday.com, 03 March 2020, https://www.womansday.com/food-recipes/food-drinks/a22552520/peach-melba-ice-pops-recipe./
[3] Miyashiro L. (2018). "Zucchini Sushi." delish.com, 03 March 2020, https://www.delish.com/cooking/recipe-ideas/recipes/a52239/zucchini-sushi-recipe/.
[4] Miyashiro L. (2019). "Sweet Potato Chips." delish.com, 03 March 2020, https://www.delish.com/cooking/recipe-ideas/recipes/a49369/sweet-potato-chips-recipe/.
[5] Miyashiro L. (2017). "Jalapeno Popper Crisps." delish.com, 03 March 2020, https://www.delish.com/cooking/recipe-ideas/recipes/a51572/jalapeno-cheese-crisps-recipe/.
[6] Miyashiro L. (2018). "Best-Ever Peanut Butter Protein Balls." delish.com, 03 March 2020, https://www.delish.com/cooking/recipe-ideas/a25416301/protein-balls-recipe/.