Posted by Jnhlifestyles on 16th Jan 2018
In the industry of thermal therapy, infrared saunas have been making waves -- literally and figuratively.
Many avid sauna goers prefer "infrared waves" over steam because the heat that these waves radiate feels more comfortable than that of the traditional water-based method.
Studies show that the deep, penetrating heat coming from an infrared sauna is more effective than steam in terms of detoxification and weight loss (you can burn up to 600 calories).
Because of these and other proven benefits of infrared saunas, many celebrities and sauna aficionados inhabit spas and clinics offering such thermal therapy.
But why is it recommended to own a personal infrared sauna?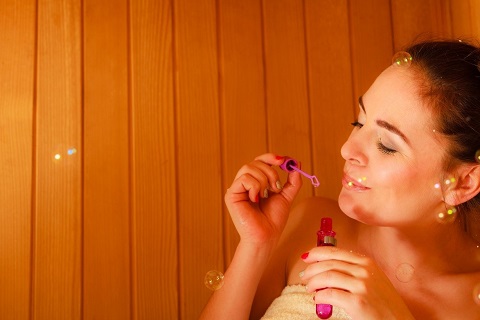 Hygiene
Because water cannot be used as a cleaning method for the interior of an infrared sauna, you can gain comfort in being able to control who uses the sauna.
Owning a sauna at home eliminates the risk of contracting an illness or affliction through bacteria spread at a public sauna that is operated by a spa or other health facility.
Convenient
Imagine being tired from a long day's work and needing something to help you de-stress before falling asleep.
An infrared home sauna can help you relax with its mild heat that deeply penetrates sore and tired muscles.
The secret lies in its vasodilation properties (or, the opening of blood vessels) that help blood circulate more effectively and work its way into the muscles and pained nerves.
Likewise, owning an infrared sauna means that you can conveniently detoxify, shed some weight, or achieve spa-like relaxation within the comfort of your own home.
Unlimited Use
Another advantage to owning an infrared sauna is its unlimited usage. You can reap wonderful benefits anytime you want-late at night, early in the morning, or every day after work.
What's more, it can also be enjoyed by your family members: your spouse, kids, and even your extended family if they happen to be living with you. You can even throw a sauna party right in your home.
There are almost no limits to what you can do with something you fully own.
Cost Effective
Many people ask if the benefits of an infrared home sauna outweigh its cost. This piece of equipment can be expensive for an average consumer, is it needs careful planning.
However, are many reasons why owning a personal sauna may result in long-term savings.
For one, you and others who use it can use the unit anytime you want for whatever purpose (e.g., detoxification, relaxation, social bonding) without paying for each use—no matter how long your sessions.
Additionally, an infrared home sauna can be considered a home spa and weight-loss equipment all in one, thus eliminating the need for expensive gym memberships and/or spa visits. Receive the same benefits right at home.
Last but not the least, such a piece of equipment is built to last and usually comes with a long-term warranty, allowing you to use and enjoy the product to the fullest and for many years to come.
Considering these benefits, buying an infrared home sauna proves to be a prudent decision. Not only will you be privileged to own one yourself, but you will also find that it is cost-effective in the long run.
Indeed, investing in an infrared sauna for home use adds value to your home while delivering health and wellness benefits to you and your family or guests. What could be a wider decision that investing in thermal therapy at home?
Sources:
Best Review Home Infrared Sauna Kits For Sale, Saunareviewer.com
INFRARED SAUNAS ARE FASHION'S MOST INSTAGRAMMABLE WELLNESS TREND, Fashionista.com