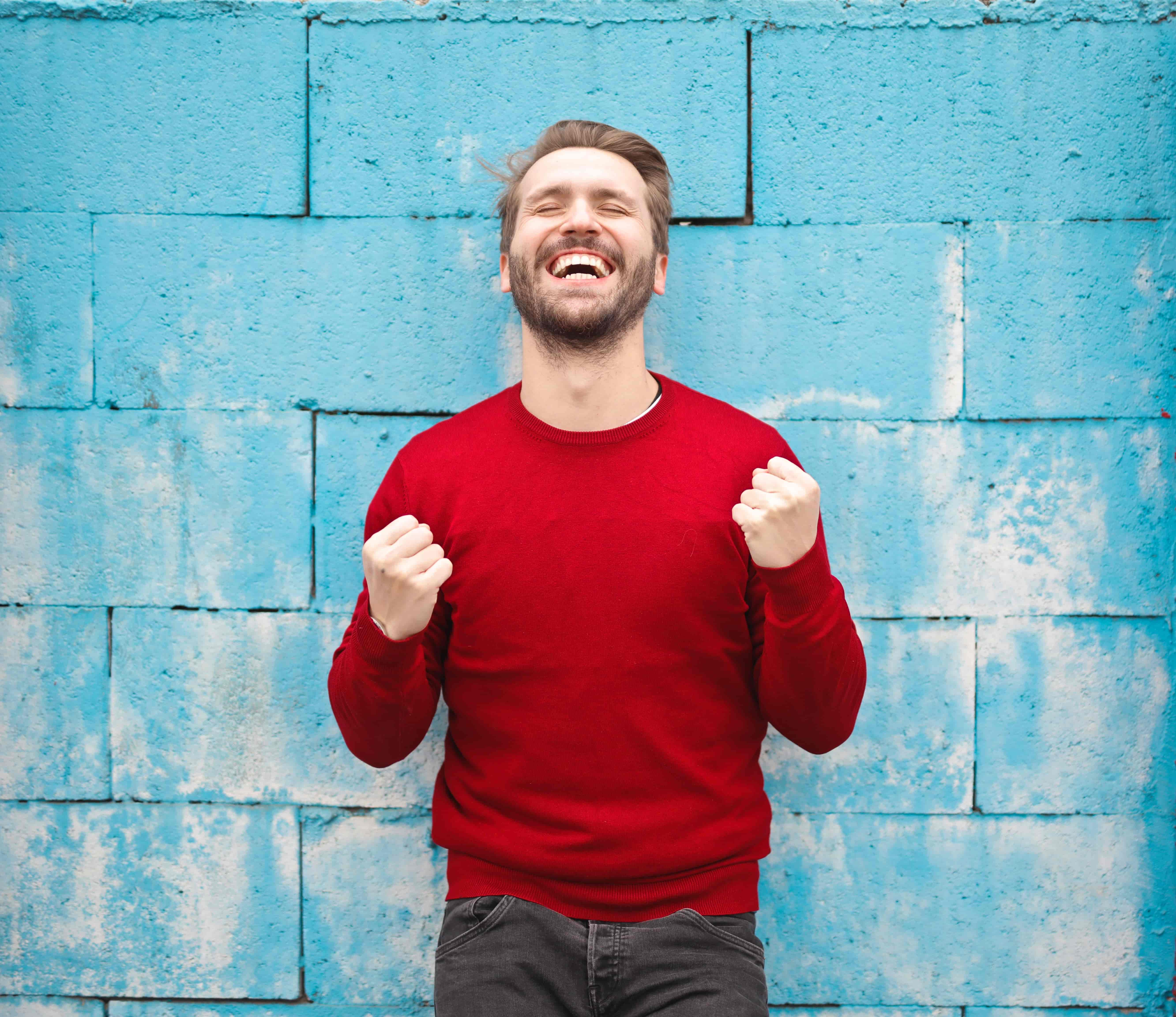 Photo by bruce mars on Unsplash
Infrared light is starting to become well known for having a positive impact on your health and well-being. Because of this, you may be thinking about purchasing and placing a personal infrared sauna into your home. You've used infrared saunas elsewhere, but you like the idea of not having to leave your house to reap the benefits. In fact, today, typing in 'infrared sauna near me' into Google will provide you with a wide-range of results, but nothing beats the accessibility and easy-access of a home infrared sauna. Why should you install a home infrared sauna? Let's break down the perks!
---
The Benefits of a Home Infrared Sauna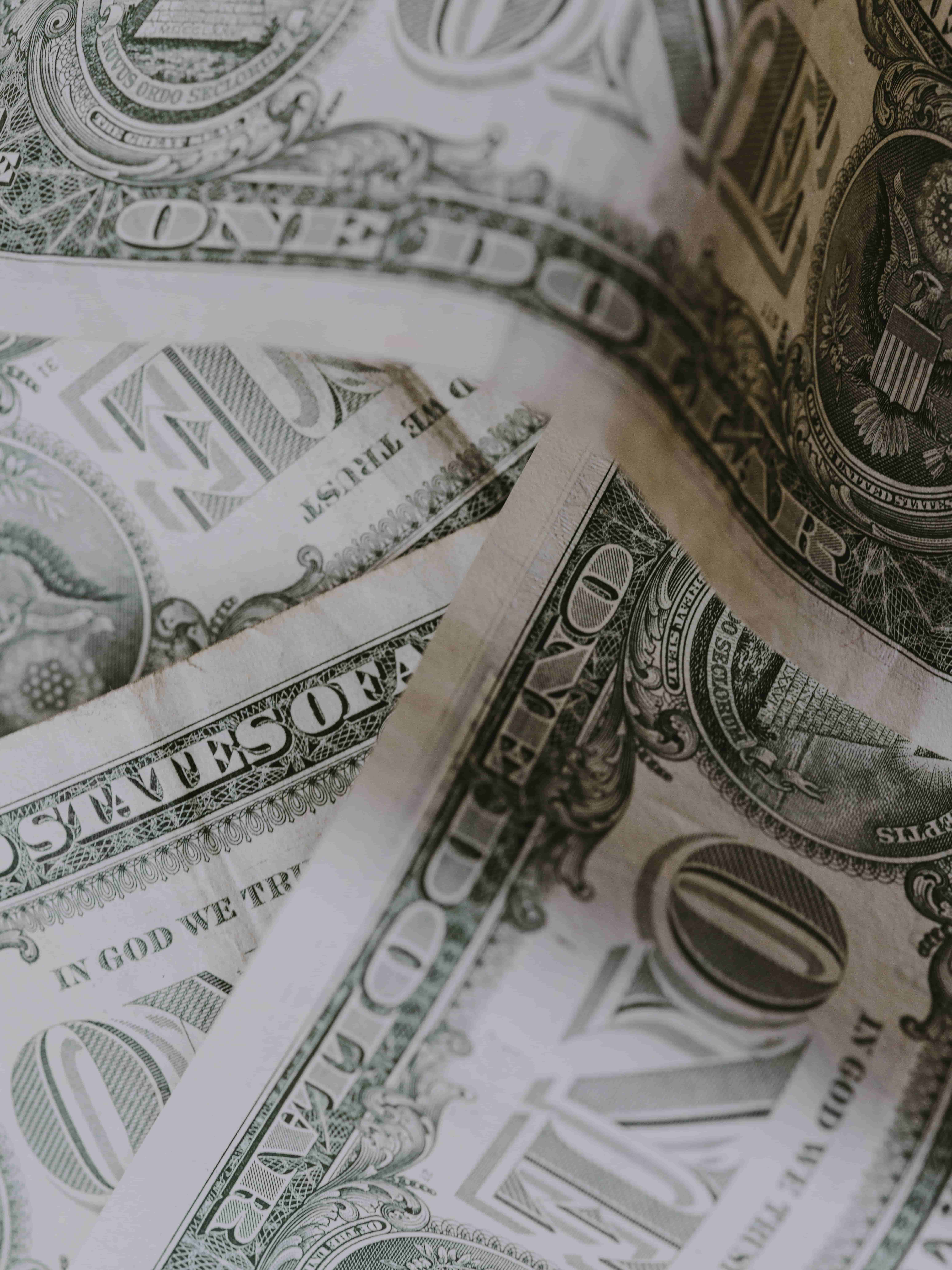 1. It's Convenient!
Nothing beats convenience these days; in fact, most industries revolve around making things more accessible. We all have busy/stressful lives and having to carve time out to rush to your nearest gym to reap the benefits of an infrared sauna is counter-intuitive. Make your life easier and simply install an infrared sauna in your home. You'd be surprised at how easy JNH Lifestyle saunas are to install.
2. You'll Save Money!
Instead of spending money to have access to a sauna near you, a personal sauna will not only save you time but also your hard-earned cash. It's a worthwhile one-time investment, as opposed to a recurring monthly cost. Furthermore, many home infrared saunas come with warranties, which means that if anything goes wrong (manufacturing defects), you'll likely be covered.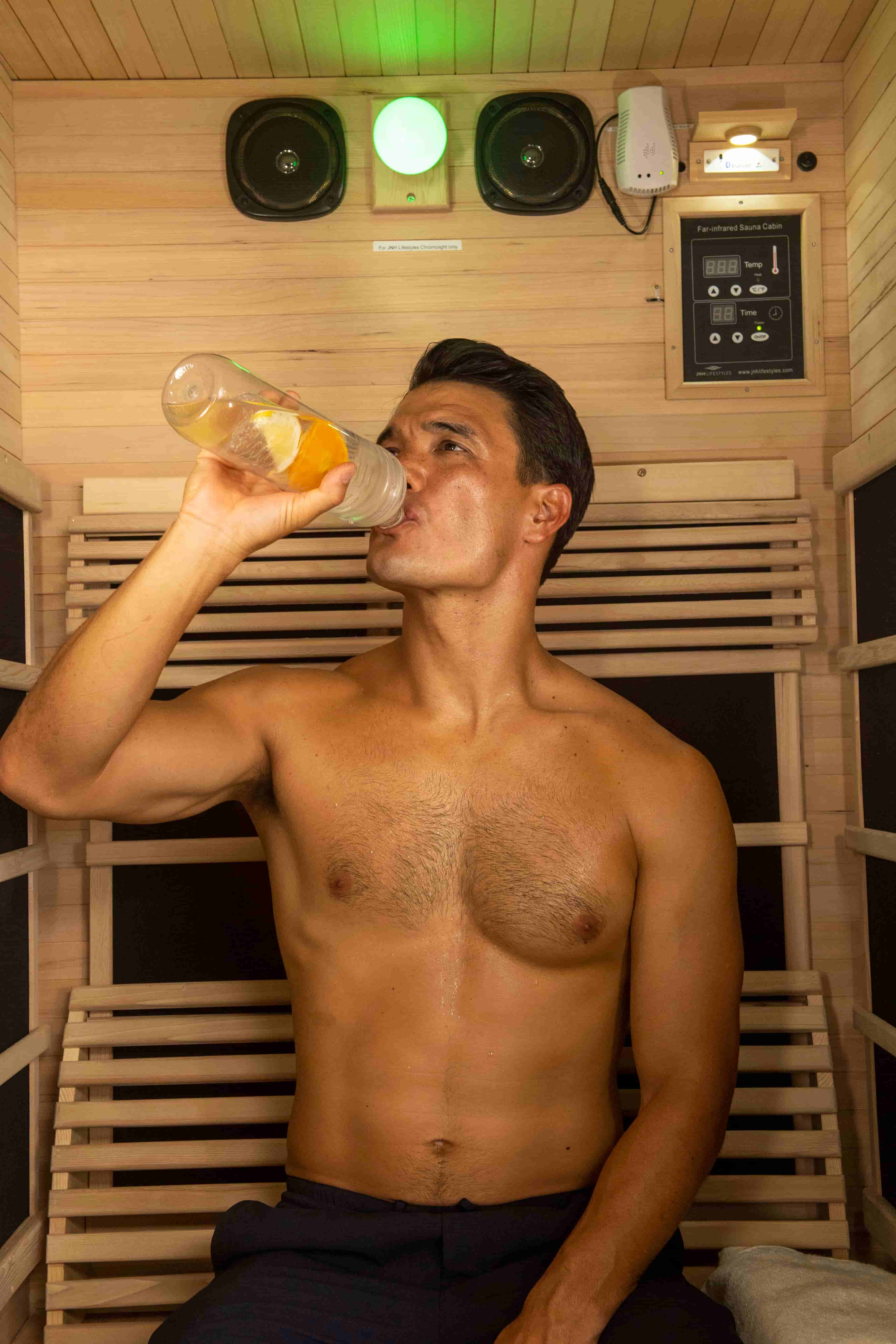 3. It's More Hygienic
If you want to lessen the chances of contracting germs during your sauna session, a personal sauna is where it's at. A home infrared sauna doesn't have strangers coming and going. It's all your own - or your family's. Why is this important? Infrared saunas detox the body, which translates to A LOT of sweat. If the sauna isn't properly cleaned after use, bacteria or mold may grow. With public saunas, you have no idea if or how well they've been cleaned. With a personal sauna, you know because you'll be using and cleaning it.
4. A Home Infrared Sauna Can Have More Health Benefits
Since you won't have to travel to partake in frequent infrared sauna sessions, you may be less stressed knowing you don't have to leave the comfort of your own home. When the body is less stressed, it performs better, this including improved overall healing [1]. Also, the fact that you're cleaning the sauna yourself means that you're less likely to contract anything from what would otherwise be a dirty pubic sauna. Again, this translates to more health benefits and less adverse effects on your body.
It's also worth noting that it may prove more beneficial to undergo an infrared sauna session at a certain time of day. Many individuals indicate that they feel the effects more when they have their sauna session first thing in the morning or last thing in the evening. You can start your day off on the right foot or unwind and detoxify after a particularly rough day. Obviously, you can always commute to your local gym to solve this issue, but nothing beats having own personal infrared sauna readily available. And with public saunas, you may be restricted by their opening hours or appointment times depending on your availability.
5. You'll Be More Likely To Partake In Frequent Sessions
This relates back to increasing the health benefits involved in having a home sauna. When you have an infrared sauna constantly available to you, chance are significantly higher that you'll use it more frequently. And with regular usage comes all the health benefits associated with infrared therapy.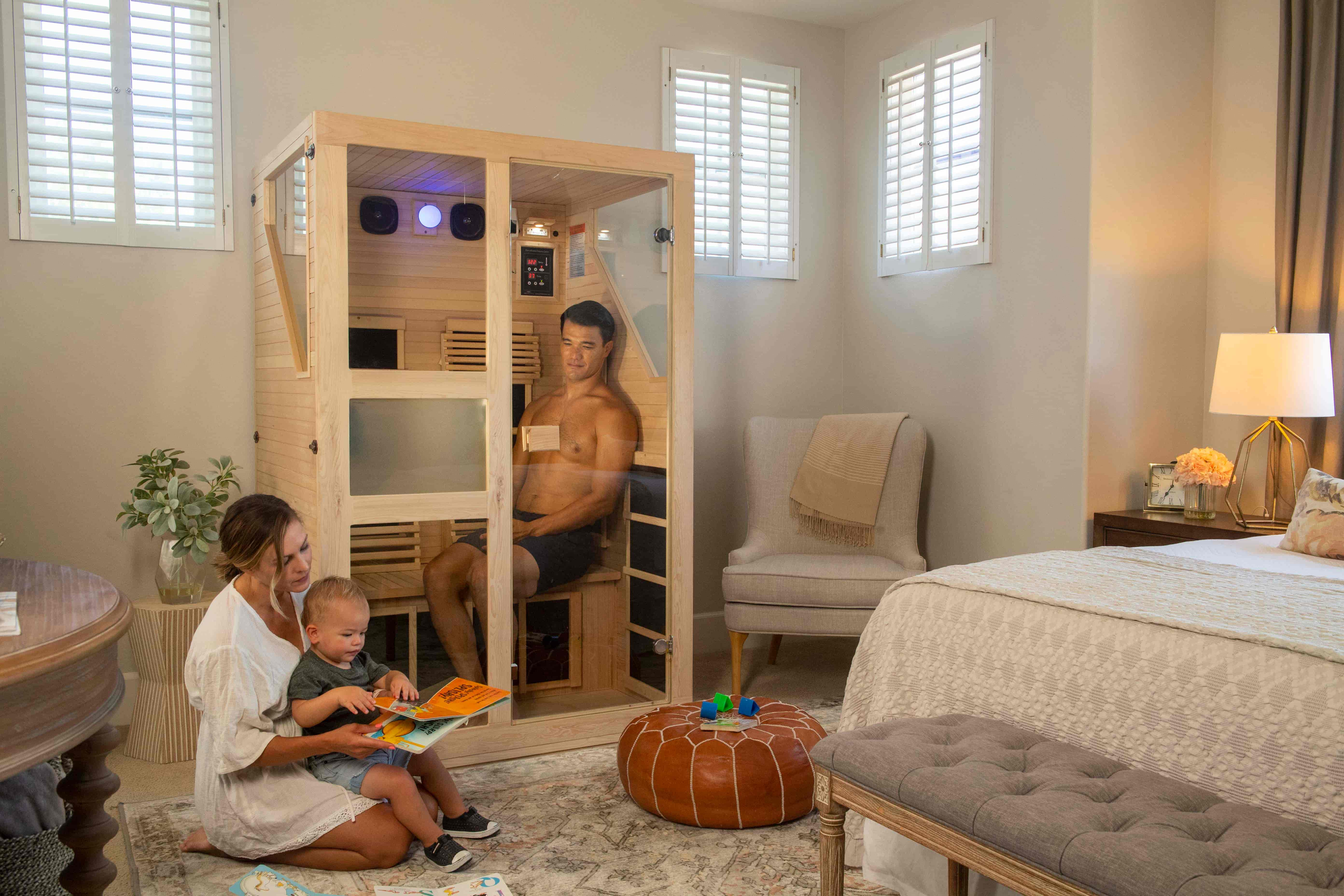 Use a Personal Sauna for Better Health
Infrared saunas come with an array of benefits, which can be more readily and conveniently acquired by having your own personal sauna. It allows you to relax in the comfort of your own home and can potentially save you money. Consider making the investment into your health by purchasing your own infrared sauna from JNH Lifestyles. We guarantee that all of our collections are easy to set-up, meaning you could have your very own infrared sauna ready to go in about an hour. Check out our online store or speak with a specialist by calling (800) 528-3110. We're also available via our website's chat function and on all major social media platforms. Start obtaining the benefits of infrared sauna therapy today!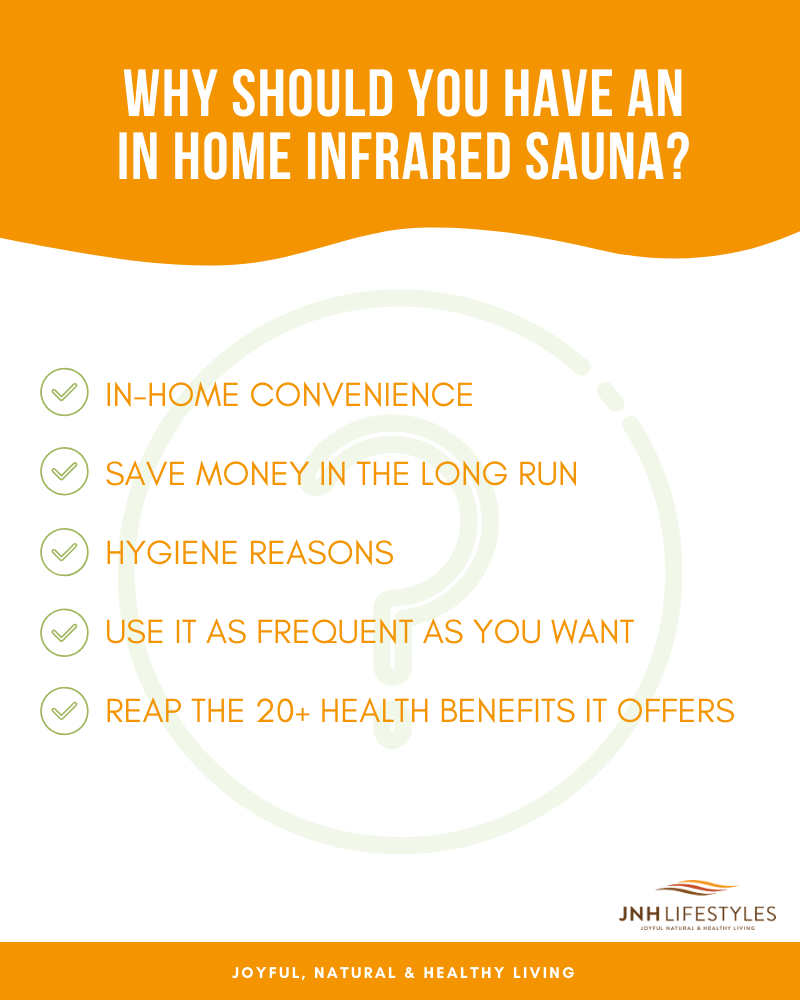 Resources:
[1] Glaser J, Keicolt-Glaser R, et al. (1995). "Slowing Of Wound Healing By Psychological Stress." Sciencedirect.com, Elsevier B.V., 4 November 1995, https://www.sciencedirect.com/science/article/pii/S0140673695928995.