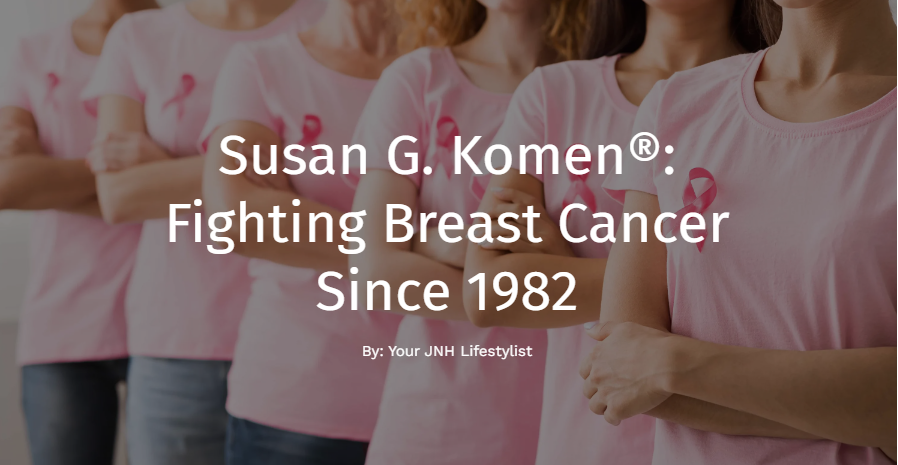 Breast cancer accounts for 25% of cancer cases in women, with many having at least a friend or family member affected [1]. Undeniably, it's a tough diagnosis to face - for both the diagnosed and their loved ones. Yet, in the shadow of negativity, there is light.
Susan G. Komen® is a global movement started by one individual, Nancy G. Brinker, who lost her own sister to breast cancer. In 1980, Brinker promised her dying sister, Susan, that she would do everything possible to end the fight against breast cancer [2].
The foundation started with only $200 and has flourished into the world's largest nonprofit breast cancer movement. Read more to discover this incredible foundation's history, their accomplishments, their current activities, and more.
---
The History of Susan G. Komen®

After losing her sister to breast cancer in 1980, Brinker set out at the beginning of 1982 to do everything and anything she could to eliminate breast cancer. The organization has grown immensely and invested over $2.9 billion into innovative research, advocacy, programs, and community health outreach in over 60 countries.
It's undeniable that Susan G. Komen's® efforts contributed to the reduction in breast cancer by 40% between 1989 and 2016 [2]. It's also the only organization contributing to the fight against breast cancer on multiple fronts, with a firm belief that this is the only way to make the biggest impact possible.
The Foundation's Accomplishments

Susan G. Komen® continues to make major progress raising funds for breast cancer research, education, screening and treatment, and more. In fact, they've contributed over $988 million to breast cancer research, which is only second to the U.S. government [3].
Another awesome fact about this passionate, non-profit organization is their support of women with breast cancer who are uninsured, under-insured, or part of a low-income bracket. They've also partnered with various organizations – such as AmazonSmile, Budget, Bank of America, Walgreens, and Ford, which continues to increase awareness and funds toward their singular cause.
Undeniably, this organization is a driver behind the breast cancer awareness movement. Without it, it would be hard to say where this movement would be today and what progress would've been made in breast cancer research.
Susan G. Komen's® current goal involves reducing the current breast cancer death rate by 50% by the year 2026 [4]. It's an ambitious task, but considering their past success, it's entirely possible.
Their website offers vast resources for all things breast cancer related, including current outlined studies and research. In addition, the foundation is always actively fundraising when and where they can, with an option to easily donate anytime on their website.
While COVID-19 has forcibly placed their annual runs and walks on hold, they persevere; moving forward towards a hopeful future and continually planning ways to advocate and educate.
It's Time to Get Involved!

There are many highly encouraged ways for the general public to become involved or continue to be involved. Normally, Susan G. Komen® hosts races and walks across the United States to raise awareness and funds for research and innovation, but COVID-19 has paused these efforts temporarily.
In the meantime, you can show your support by going to their website, ww5.komen.org, and clicking the donate button in the upper right corner of their site. They also sell merchandise, with 100% of proceeds going right back to the foundation.
What you consider a small donation can slowly pool into a large sum if everyone donates what they can. Breast cancer is everyone's fight, now join the battle with us.
---