The ProSeries 200:
Our New Full Spectrum Infrared Sauna
We would like to welcome to the JNH Lifestyles Collections our new 1 Person ProSeries 200. This particular infrared sauna offers full spectrum capabilities, with combined far/mid infrared heaters and a strategically placed near infrared emitter. For the comfort of our customers, we've also increased the cabin width and depth, providing more room for users to enjoy the therapeutic heat of infrared. But that's not all, read on to discover what makes the ProSeries 200 standout from our other 1 person infrared saunas.
---
Core Heaters: Unprecedented In The Infrared Sauna Industry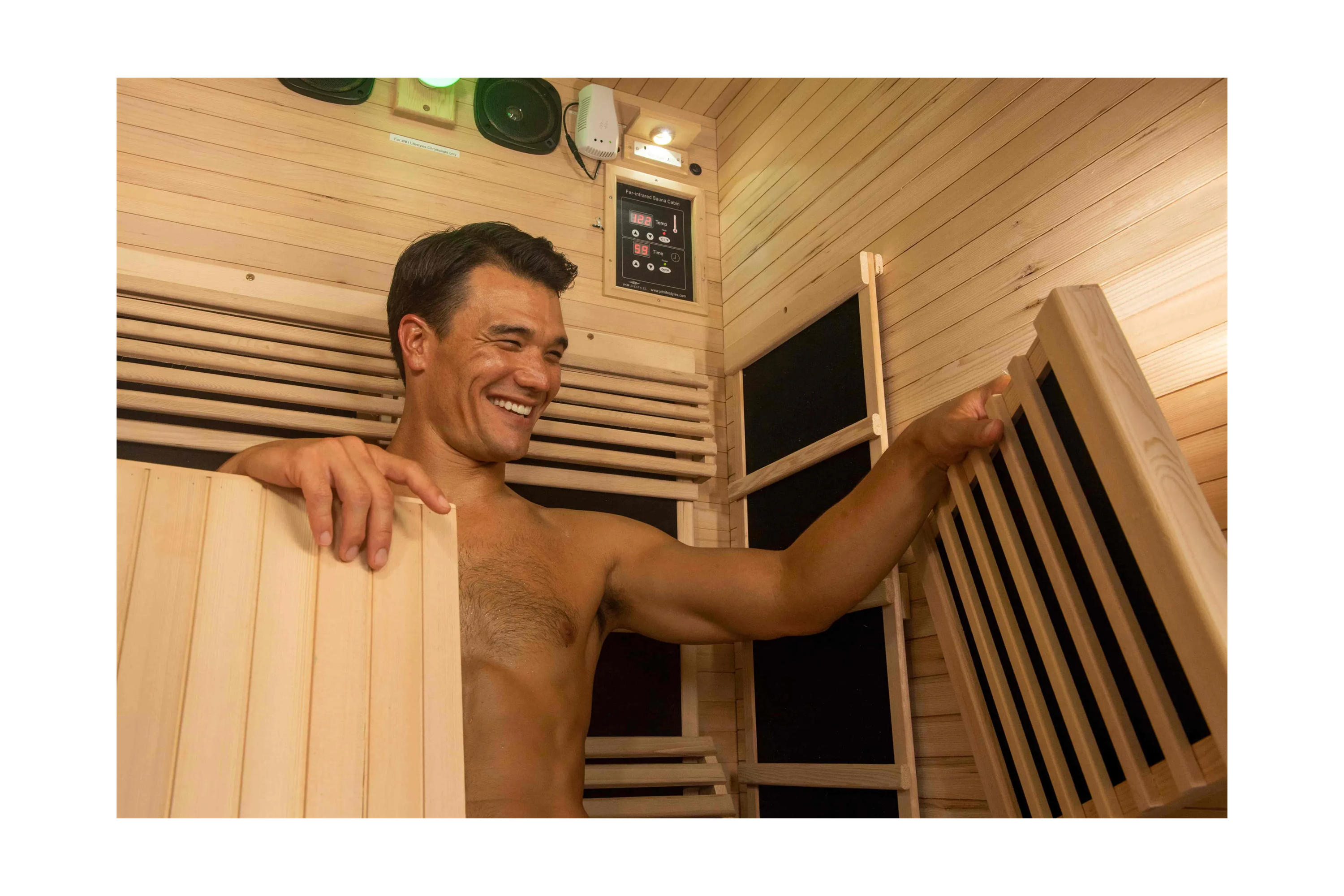 As previously mentioned, the ProSeries 200 is outfitted with 9 of our far/mid combination heaters, with 2 being newly engineered core heaters. Core heaters are mounted onto the left and right walls via hinges. When you would like to increase the intensity of your infrared therapy session, simply position the core heaters out in a winglet fashion (up to 90°). The core heaters will follow their pre-determined path, concentrating their far/mid infrared waves toward the center of the body (your core); penetrating deep where vital joints and organs are located.
We understand that the amount of interior space matters to a lot of our customers.
That's why we've crafted the ProSeries 200 to include plenty of elbow room. This increase in size is perfect for a variety of people: from those who are prone to feelings of claustrophobia, to people who have broader body builds, or even those in our geriatric community with limited maneuverability.
Dimensions: 39.5" W x 39.5" D x 75" H
Just like our much-loved Ensi and Tosi collections, the ProSeries 200 follows suit with ultra-low EMF heaters. Tested by Intertek and Vitatech, both unbiased third-parties, the ProSeries 200's heaters average at a 0.32 mG reading from the center of the panels. If you have any questions regarding EMF's, please refer to this short read: What Are EMF's?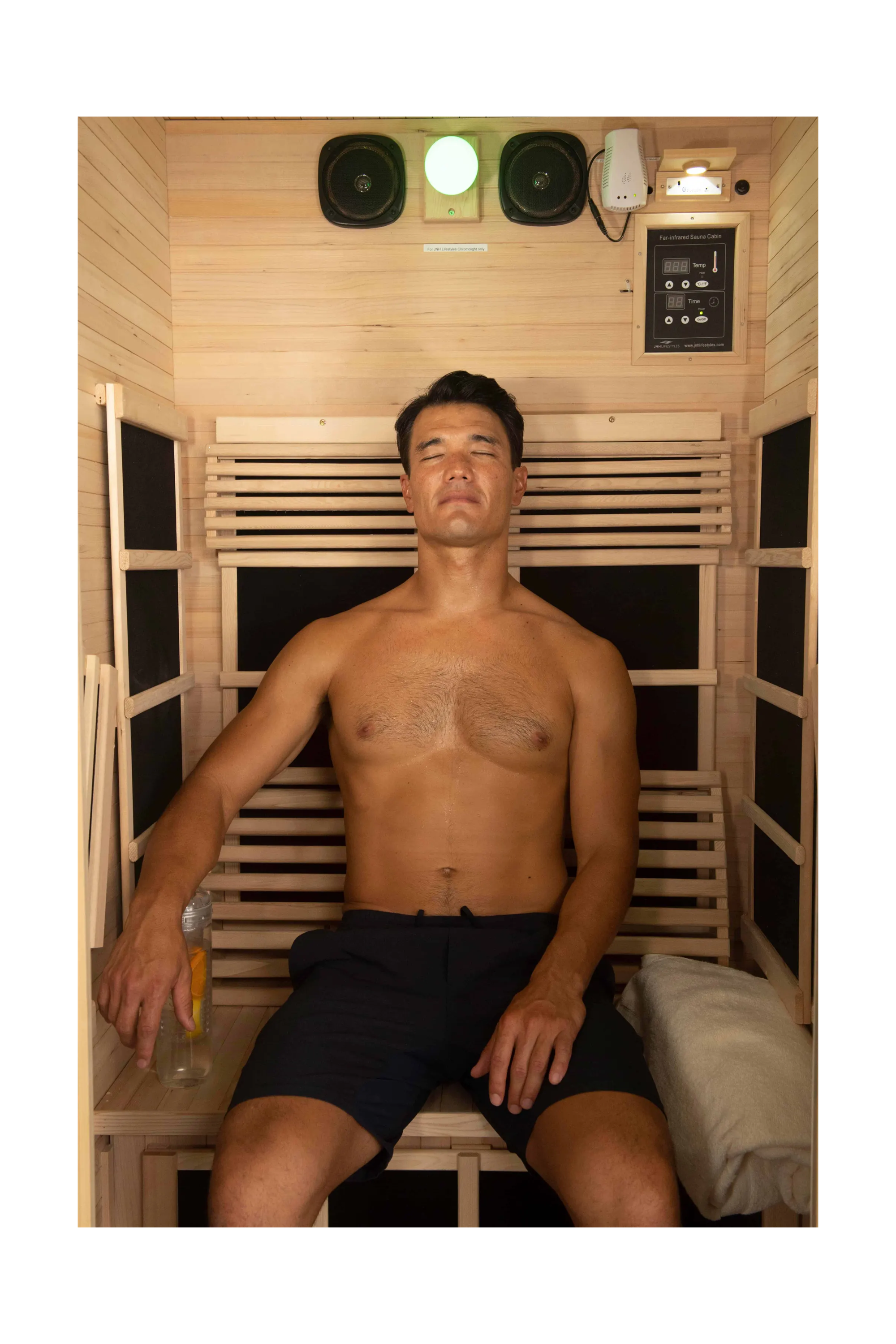 Strategically Placed Near Infrared Emitter

The importance of maintaining a healthy spine is an extremely important factor that virtually everyone seems to omit from their daily health routine. Our spine is what makes it possible for us to stand erect and go on with our day-to-day lives. The thought of having back issues never occurs as a thought to most until you're bed-ridden and forced to place your life on hold.
To help you, we've added one of our innovative near infrared emitting LED panels in the middle of the back wall panel. This strategic placement specifically targets your spinal column, nurturing your spine with therapeutic near infrared waves. Not only are you nourishing of your body with the hefty health benefits offered by the far/mid combination infrared heaters, but you're also taking preventative measures to ensure you preserve optimum spinal health.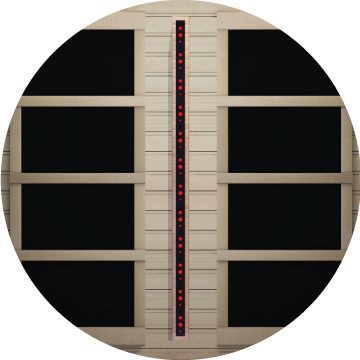 "Having my infrared sauna in the comfort of my own home has made it so easy for me to get a good sauna session whenever I'd like. I love the max temperature, it allows me to stay in the sauna for a long period of time without feeling discomfort. I absolutely love my JNH Lifestyle's infrared sauna. Thank you JNH Lifestyle's for this great product."
---
"I didn't realize how vital the infrared sauna would be to my daily life and career in areas such as heat training, recovery and overall health."