Posted by JNH Lifestyles on 30th Jul 2021
Do Infrared Saunas Help You Lose Weight?
Infrared saunas are not a stand-alone weight loss machine, but they can be used in conjunction with exercise and a healthy diet as a catalyst to reach your goals [1]. Anyone who claims otherwise, stating that an infrared sauna is all you need , should be treated with caution.
Yes, you can lose weight after one session, but what you lost is pretty much all water weight. This short-term weight loss will more than likely be replenished once you start drinking water again (Which should be done immediately after every session because it's extremely important to re-hydrate yourself). 1 infrared sauna session or 100 sessions will not help you lose actual fat if you're not also accompanying them with worthwhile exercise and nutrient-dense foods [2].
In fact, there was a study published in the Journal of Photochemistry and Photobiology where Fernanda and others tested if women who suffer from obesity could lessen their cardiometabolic risk with low-level laser therapy (near infrared) and exercise [2]. Notice that for their research, they combined a form of infrared therapy with exercise; more specifically aerobic exercise with resistance training.
By doing so, the women who participated experienced a, "…decrease in neck and waist circumferences; percentual of fat; [and] visceral fat area…" (Duarte et al. 2015). In short: Yes, infrared saunas can help you lose weight when you integrate your sessions with a healthy lifestyle regimen.
One of the most impressive benefits far infrared (FIR) offers is its ability to increase your heart rate [3]. This rise can simulate a mild form of cardio, but shouldn't be used as a substitute for traditional cardiovascular exercises. Remember, your infrared sauna is a tool to help you on your journey to a healthier you and shouldn't be used as a stand-alone method in a weight loss plan.
Where Can I Get an Infrared Sauna?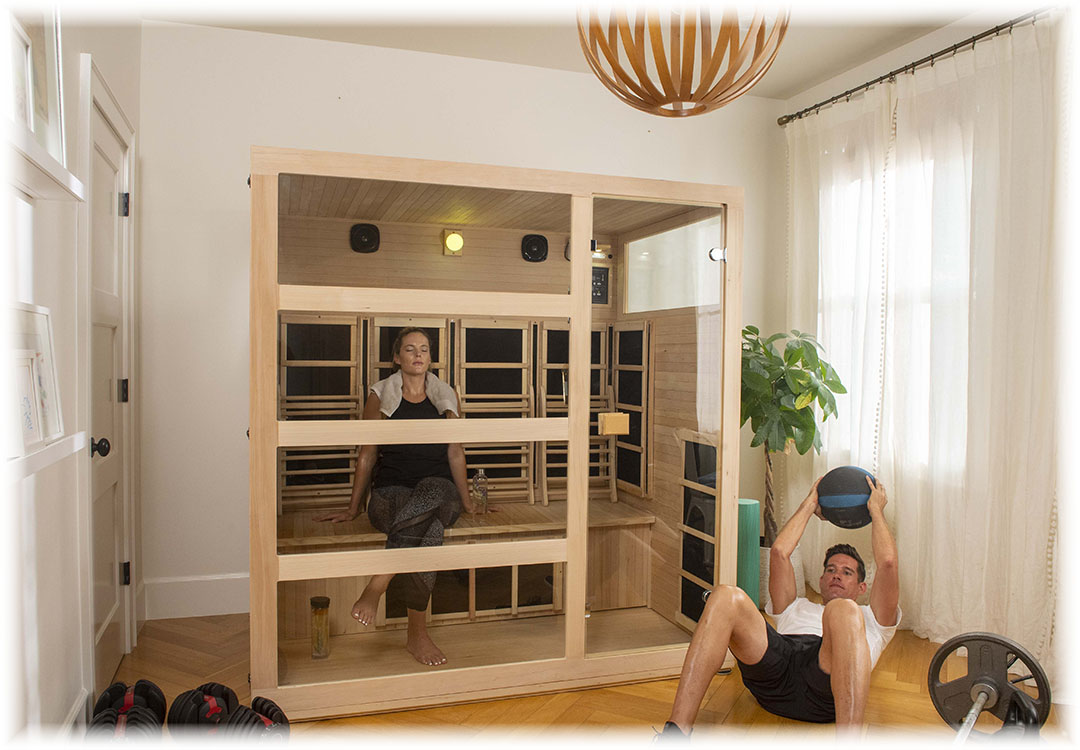 There are plenty of online retailers that offer infrared saunas, but at JNH Lifestyles, we guarantee to have a collection that'll grab your eye.
Looking for a best-seller? Check out our Joyous Collection!
Are you interested in ultra-low EMF options? Take a gander at the Ensi Collection!
Or, do you want full spectrum AND ultra-low EMF? Look no further than our Tosi Collection.
No matter which collection you choose, all our saunas emit far infrared, making them valuable weight loss tools that are waiting to be included into your new lifestyle.
References
[1] Barthole, Jenn and Gilbert, Kylie. "What's The Deal With Infrared Sauna Treatments?" Shape, Meredith Corporation, https://www.shape.com/lifestyle/mind-and-body/infrared-sauna-health-fitness-benefits
[2] Duarte, Fernanda O. et al. (2015). "Can Low-Level Laser Therapy (LLLT) Associated With An Aerobic Plus Resistance Training Change The Cardiometabolic Risk In Obese Women? A Placebo-Controlled Clinical Trial." Sciencedirect, Elsevier B.V., 2 September 2015, https://www.sciencedirect.com/science/article/abs/pii/S1011134415002766?via%3Dihub.
[3] Cheng, Chou-Ming et al. (2015). "Effects Of Far-Infrared Radiation On Heart Rate Variability And Central Manifestations In Healthy Subjects: A Resting-fMRI Study." Ncibi.nlm.nih, National Center for Biotechnology Information, 24 September 2014, https://www.ncbi.nlm.nih.gov/pubmed/25249495.