So, you're leaning towards buying an infrared sauna and with so many options, we can understand why it's difficult honing in on which infrared sauna fits your home, lifestyle, budget and needs. That's why we've put together an extensive buying guide, which elaborates on all the topics you're more than likely questioning.
Which Wood Type is Right for You?
JNH Lifestyles offers two Canadian wood-types to choose from: Western Hemlock and Western Red Cedar. Both are popular choices among the infrared sauna industry and for good reason too. We selected Hemlock and Red Cedar based on our extensive research, which found that both wood types efficiently reflect infrared waves with little absorption and loss of wavelength strength.
Western Hemlock
British Colombia is home to one of the world's most abundant trees, the Canadian Western Hemlock. Hemlock is a popular and versatile building material, from molding in homes to the construction of boats. (Other uses include: doors, windows, interior finish, floors, suspended ceilings, ladders and other purposes where a high-grade softwood is needed.) And with Hemlock being such a trusted and durable wood species that has proven itself time and time again, it made it easy for us to determine what to construct our infrared saunas from.
Western Red Cedar
Red Cedar primarily grows along mountain sides and dense forests, where it has evolved and developed a highly natural resistance to decay and insects. It's even used in the lining of closets as a bug repellent solution. Red Cedar is also admired for its' red coloration and distinct aroma. Outside of saunas, Red Cedar is used for decking, siding, fences, windows, doors, paneling, greenhouses, outdoor furniture, gazebos and even the framing of lightweight sail boats. With so many benefits, this is a luxury feature most want their infrared sauna to possess.
During our manufacturing process, we kiln-dry all wood, making it much easier to cut and shape. But kiln-drying doesn't just benefit us; it also greatly improves the overall strength, endurance and appearance of your infrared sauna.
Heater Types, What's the Difference?
There are 4 dominant heaters types you'll run across during your online research endeavor: Ceramic, Carbon Fiber, LED's and Halogens. But do heater types even matter? You bet they do! Here's why:
Ceramic Heaters
-Emits far to mid infrared, can be modified to emit near infrared
During JNH's earlier years, we initially used ceramic heaters in our infrared saunas. But as the technology evolved and JNH grew as a company, we realized that ceramic heaters were inefficient and too hot, making what should be an enjoyable experience unbearable. Over time, we did away with ceramic heaters and now outfit every collection with carbon fiber panels.
Carbon Fiber Heater Panels
-Emits far infrared
We prefer to use carbon fiber panels because of their efficiency and safety. On average, they last twice as long as ceramic heaters and have a drastically lower surface temperature. And unlike ceramic heaters that require a ceramic rod to achieve red-hot temperatures (literally) in order to produce infrared waves, carbon fiber heaters use a large, flat surface area. This difference in heaters provides even coverage throughout the sauna cabin and are safe to touch. Carbon fiber heaters also emit a milder heat, enabling longer infrared sauna sessions. The longer the session, the more health benefits you'll experience!
LED's and Halogen Bulbs
-Emits solely near infrared
We use LED strips in combination with carbon fiber heater panels on our full spectrum collection, the Tosi. You'll find that some companies use ceramic/carbon fiber heater combinations on their full spectrum saunas (if you'd like to learn more about the differences on full spectrum saunas, scroll down to "FIR or Full Spectrum Saunas"). LED strips emit very little heat and provide the ideal frequency of near infrared for the human body.
Heater Installation
As a consumer, it's important to examine how the heaters are installed in your potential infrared sauna. Whether the heaters are mounted onto or built into the walls places a great deal of importance on the overall lifespan of your infrared sauna. It can also negatively affect the process of having to repair/replace a heater panel if it were to malfunction.
Heater Panels Built into the Walls
If you were to purchase an infrared sauna with heater panels already built into the walls, then you have a delayed headache to deal with in the future. Heater panels built within the walls do not have any way of cooling while operating. Over time, the prolonged exposure to the stifling heat within the walls can render the heater panels inoperable and potentially warp the wood. If this happens, you'll have to request a whole new replacement wall (and incur additional expenses) or go through the ordeal of having to remove the heater panel from within the wall and install a new one.
Heater Panels Mounted onto the Walls
Having your heater panels mounted onto the walls rather than within brings a bevy of benefits. One advantage is the gap that's created between the wall and heater. This allows air flow, thus permitting the heater to maintain a constant, operable temperature that won't hinder it's lifetime. A wall-mounted heater also allows for easy removal if you ever need to replace it. We've designed our saunas to be extremely user-friendly and we want you to have the right to repair them if need be.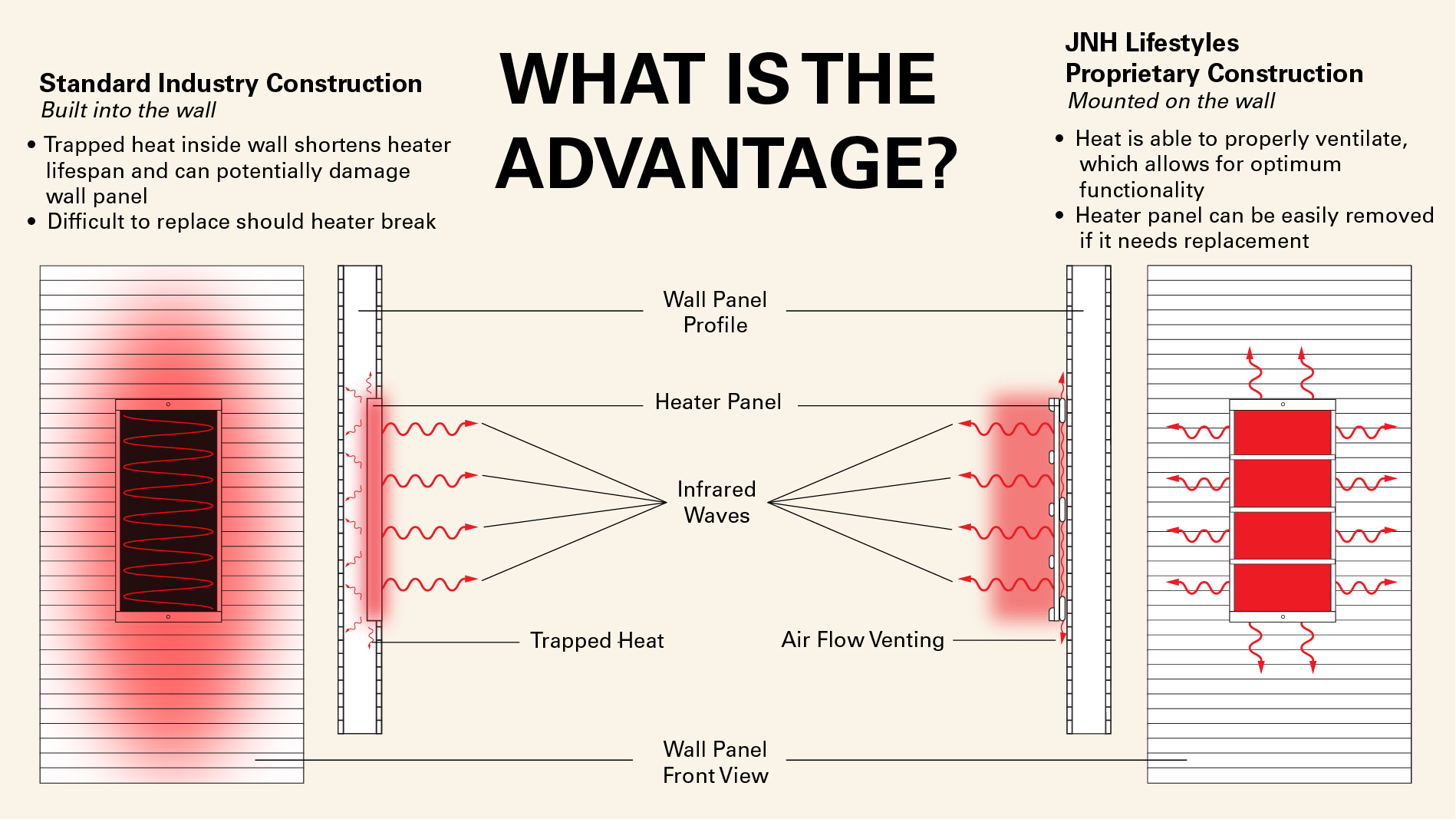 Far Infrared or Full Spectrum Saunas?
If you've researched other far infrared (FIR) sauna companies (including our own), then you've probably come across full spectrum saunas too. Full spectrum refers to the entire infrared spectrum: near infrared, mid infrared and far infrared.
So, what's the difference between a FIR sauna and a full spectrum sauna? The answer is simple, FIR saunas emit strictly far and mid infrared waves, while full spectrum saunas emit far, mid AND near infrared waves.
There are two primary heater types you'll find inside a FIR sauna: ceramic or carbon fiber. For full spectrum saunas, you'll find a combination of 3 types of heaters: either halogen and carbon fiber, or LED and carbon fiber.
Carbon fiber heater panels solely radiate far and mid infrared, while LED's and halogen bulbs only emit near infrared.
For example, if you see a full spectrum sauna that has both halogen and carbon fiber heaters, then the carbon fiber panels are emanating far and mid infrared, while the halogen heaters are emitting near infrared. The same applies to an LED/Carbon Fiber combo; carbon fiber panels emit far-to-mid infrared waves and LED's produce near infrared.
Now that you have an idea on the heater differences of FIR and full spectrum saunas, you're probably wondering what kind of health benefits each have. Here's a chart below that compares that two: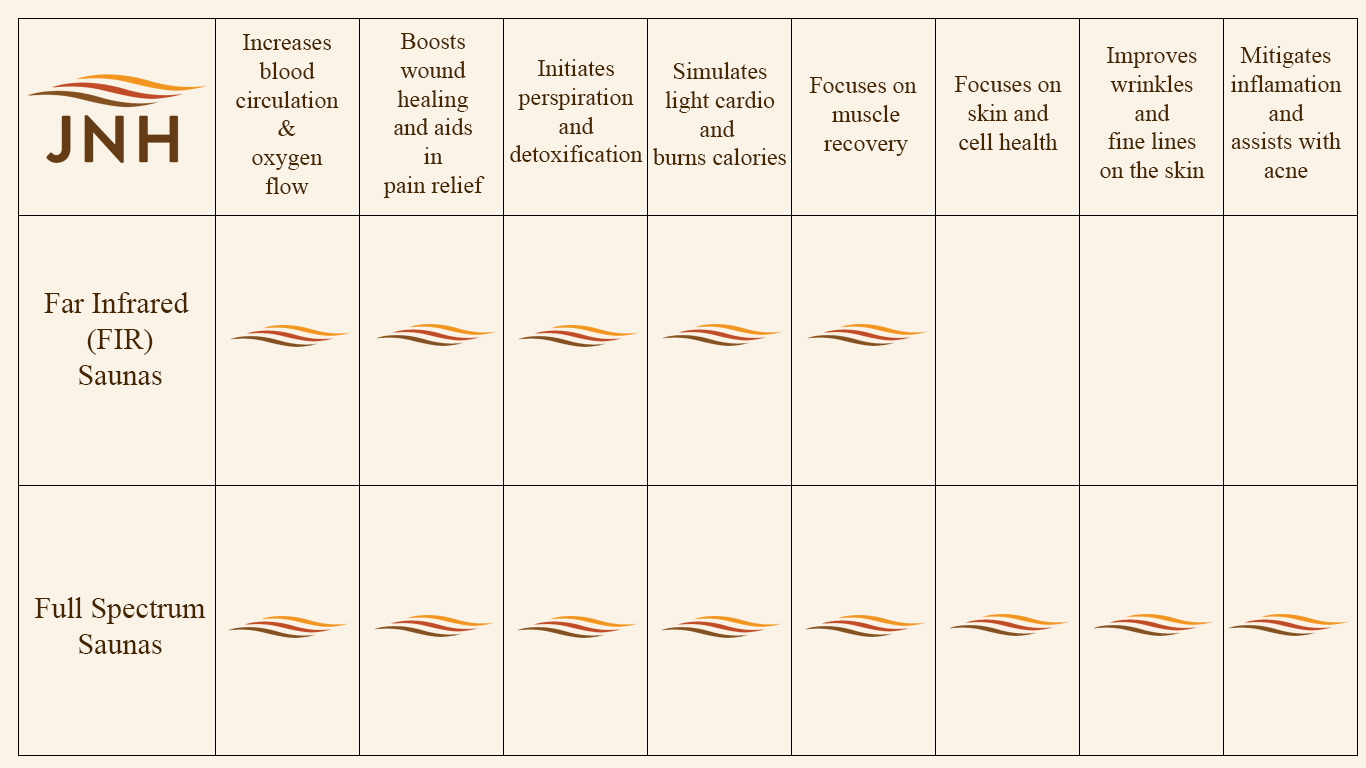 Sauna Collections
| | | | |
| --- | --- | --- | --- |
| Sauna Collections | Wood Type | Heater Type | Starts At |
| Vivo | Western Hemlock | Carbon Fiber Heater | $1199 |
| Joyous | Western Hemlock | Carbon Fiber Heater | $1299 |
| Freedom | Western Red Cedar | Carbon Fiber Heater | $1899 |
| Ensi | Western Hemlock | Ultra-Low EMF Carbon Fiber Heater | $2799 |
| Ensi RED | Western Red Cedar | Ultra-Low EMF Carbon Fiber Heater | $3499 |
Sauna Sizing
| | |
| --- | --- |
| Sauna Sizes | Dimensions |
| 1 Person | 35.5" (w) x 35.5" (d) x 75" (h) |
| 2 Person | 47.3" (w) x 39.5" (d) x 75" (h) |
| 3 Person | 59.1" (w) x 39.5" (d) x 75" (h) |
| 4 Person | 70.9"(w) x 47.3"(d) x 75"(h) |
| Corner | 59.1" (Back) x 25.6" (Side) x 47.3" (front) x 75" (h) |